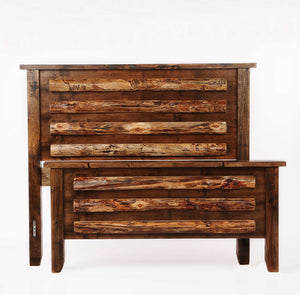 Product details 
Hand rubbed stain

Offered in sizes from twin to king

Everything included except box spring and mattress

No tools required for assembly

Pedestals included for additional center support (except on twin beds)

Made in USA
Our furniture is 100% made in America by our local artisans. You can feel good about your purchase knowing that each piece is handcrafted and assembled with unmatched quality. We have been in business for 27 years and welcome any custom designs or measurements to fit your needs. 
We are Eco-Friendly. We only use wood that has naturally died or fallen over and minimize waste by hand selecting every piece of wood. Every piece of furniture we produce is unique and will tell its own story. We help to save space in local landfills by building quality furniture that will last a lifetime and many generations to come. 
We finish every piece with three coats of restaurant grade finish that is resistant to water, smooth to the touch and very durable. We have hand stained each piece a dark walnut color and feature half log aspen drawer faces with sleek brushed aluminum drawer pulls.
Shop our site, give us a call or stop by today to Buy Direct and Save!